Internet Engineering Ltd. Google Search Engine

Loading
The Internet Engineering, Ltd. Google Search Engine continues a Google Hosted Search

Background
FirstPageSearchEngineOptimization.com was successfully indexed in Google August 22th of 2009 and Bing November 2nd of 2009.
11-10-09 - I've decided to change the domain name of First Page Search Engine Optimization. The name was too cumbersome to have to repeat over and over again. I really liked "First Page SEO" but of course that was taken. So I settled on F1rst Page SEO. Substituting the "1" for "i". The site has only been around 2 months, I think the short term ranking hit on having to be indexed again and regaining rankings is worth the new domain name.
11-10-09 - Changing the domain name of the site required some changes to the code and internet redirect commands, resubmitting the site map, starting a new webmaster account etc.
firstpagesearchengineoptimization.com Optimization Diary | Back to Top
Commissioned on - August 2 of 2009.
Launched on the - August 9 of 2009.
Crawled by Google in - August 10 of 2009.
Submitted to Google Local Business Center - August 15th, 2009
First indexed in Google - August 22th of 2009.
Re-indexed by Google - October 29th of 2009.
First indexed in Bing - November 2nd of 2009.
Renamed Web Site to f1rstpageseo.com - November 10nd of 2009.
301 redirect to f1rstpageseo.com - November 10nd of 2009.
Google - Results

Bing - Results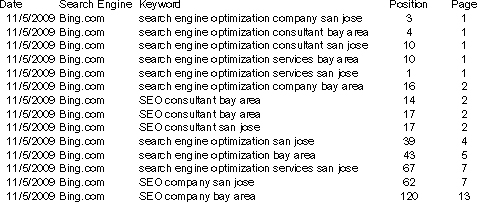 F1rst Page SEO was successfully indexed in Bing November 2nd of 2009. f1rstpageseo.com was successfully re-indexed in Google on November 18th of 2009. This means the website has been ranked by Google Ranking algorithm and assign a numerical position based on the optimized content contained in the website. I know this because if you look at the cached version of the page it shows the date that the cache was indexed.
To contact the CEO directly, please send an email to: ceo@f1rstpageseo.com
Copyright © 2009-2012. Internet Engineering,LLC