Internet Engineering Ltd. Google Search Engine

Loading
The Internet Engineering, Ltd. Google Search Engine continues a Google Hosted Search

Background
Farmers Insurance Agent Services (FIAS) is attempting to attain #1 first page local rankings for keywords that produce the most revenue opportunities for the company. The strategy for FIAS was to focus on the "Farmers Insurance Agent" portion of the phrase. This is the portion of the phrase that is the most prolific.
Farmers Insurance Agent Service - SERP Rankings

Commissioned on - September 9 of 2009.
Launched on the - September 15 of 2009.
Crawled by Google in - September 18 of 2009.
Submitted to Google Local Business Center - October 15, 2009
First indexed in Google - October 28th of 2009.
FIAS was successfully indexed in Google October 28th of 2009. This means the website has been ranked by Google Ranking algorithm and assign a numerical position based on the optimized content contained in the website.
FIAS is a local business in Morgan Hill, California. Initially I concentrated on the local area keywords phrases as that should prove to be the easiest to penetrate.
Google - Results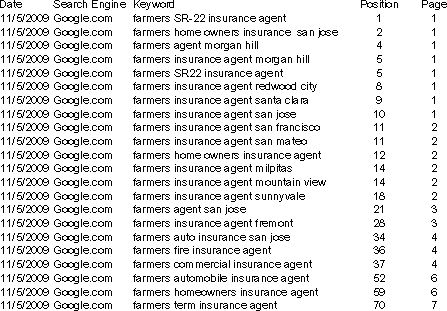 To contact the CEO directly, please send an email to: ceo@f1rstpageseo.com
Copyright © 2009-2012. Internet Engineering,LLC